RM115 Billion Eco-City for Kota Belud? Kuala Tahan Eco-City Is Possible...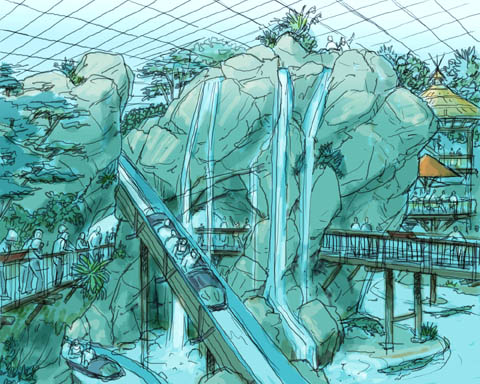 Believe it or not, Malaysia's first eco-city (Clean sustainable living on local environment means and conservation) is planned to be located at Kadamaian in the Kota Belud district of Sabah.
The proposed eco-city is envisaged to have various facilities, all linked with a cable car system, monorail and integrated transport around a man-made lake with an ambience of Venice, dotted with hotels, housing, hospital and a golf course.
Among other facilities are a F1 standard motor race track, three universities, sports city, education hub and business hub, benefiting a targeted population of 100,000 and 15,000 transient visitors and varsity students.
To be known as Gaur Eco-City, its has an estimated GDV of RM115 billion on more than 5,000 acres of undulating land that will put Sabah on the global eco-city tourism map for fine peaceful living in an intellectual hub with a population growth rate projected at three per cent.
The villagers all along the area will be involved as Sabah Parks is applying for Sabah's first Geo Park status for Kinabalu. The other two varsities planned are a medical health science university and an investment finance-business centric university.
Still in the conceptoal stage, the Gaut Eco-City, which will have a 30km cable car gondola system costing RM15 billion covering 20 villages along the foothills of Mount Kinabalu, will be presented to the Kota Belud District Development Committee on January 20 at the Sabah State Assembly on the request of Speaker Datuk Salleh Tun Said.
He is expected to launch the start of the project feasibility studies at Pekan Nabalu, which is one of the cable car system terminals of the project, on Feb 18.
If all goes well, the tendering of the works is expected to be called by April to be up and running by the fifth year of construction.
The companies involved are Braxton Group of companies, Blazetron Ltd of UK and HMD Corporation headed by CEO Bernadette Peter and Senior General Manager Boniface Mosios, with venture financing to be arranged by Dr Harrey M. Dauwat, a corporate member of the International Entrepreneurs Association.
According to Dr Harrey M. Dauwat, the cable car gondola system will be a tourism product as well as public transportation that might eventually link up to Kota Marudu in later phases.
"It will be the longest in the world and among the best in Asia," he enthused, promising new housing for poor villagers to improve the scenery for foreign tourists.
"No slopes or streams would be cut or disturbed in the construction as the cable car poles follow the topography terrain."
If these interested parties realistically have their ways with readily available viable financing and their plans approved by the authorities, Sabah may get to host Malaysia's first eco-city at what is deemed as Sabah's last natural unspoilt mythical Shangri-La-like ambience at the foothill of Kinabalu.